Welcome to our Shul!
| | | |
| --- | --- | --- |
| .. | See our recent Dinner Journal HERE. | .. |
Giving - So many ways to support the shul
Sponsor a Shabbas Mevorchim!
Sponsors get an Aliyah LeTorah, may request a niggun, and receive a Mishebairach by the Chazzan. The Chazzan is accompanied by the YIBE Aaron Miller Memorial Choir. Sponsorships are in the amount of $1,000. There are still many Shabbosim open for this year as well as for Yom Tov davening. It can be a shared sponsorship as well. We hope you join us and help continue the beautiful traditions and programs we at YIBE are privileged to enjoy.
---
THANK YOU!
In honor of the birth of their new granddaughter Orly Tovah, the Givons have donated new tables to the Shul. THANK YOU!
Join us and the Fredj family Shabbos Mevarchim March 2
The Fredj family is our adopted family living in Eretz Yisrael. Moshe, a former EMT was the first Medical Technician on the scene in a 2001 Terror attack at Meoras Hamachpela. On that Friday night as worshippers were making their way back home to Kiryat Arba, they were attacked by armed terrorists. Moshe, hearing the shooting left his Shabbos table to give assistance. He was saving the life of the commander of the group of Jewish soldiers who responded to the attack when he himself was felled by a barrage of bullets. Hit in the back numerous times, the other medical responders felt there was nothing to do for Moshe. His major organs were pierced and the medics gave up. The commander whose life Moshe saved would not turn away without doing everything he could to save Moshe's life. Moshe was medivaced to the hospital where he remained in a coma and in critical condition for the next few months. Doctors operated numerous times to try to save his life. After many months Moshe finally emerged from the coma and after years of surgeries and rehabilitation, was finally able to leave the hospital. Today, BH Moshe is doing well.
He has expressed his desire to visit us so that he could express his Hakoras Hatov for all our support. On Shabbos March 2 we will be honored as Moshe and Linda Fredj will be our guests at the Shabbos morning Mevorchim Hachodesh Davening. A Gala Shalosh Seudos will be held after Mincha on that day. Moshe will speak to all who attend and tell us his story.
If you would like to sponsor this event, please contact our office or speak with Rabbi Snow. Reservations for the Shalosh Seudos are now being accepted. Donation: $18.
Dinner 2018 Mementos
See the Dinner Journal HERE.
Parsha Tetzaveh: Heartfelt Truth
or see the menu above (Giving) for sponsorship opportunities. THANK YOU for your continued support!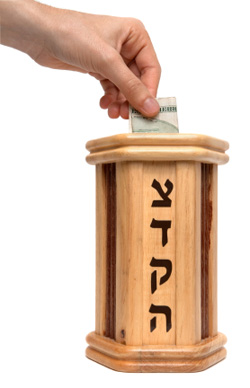 Wed, February 20 2019
15 Adar I 5779
Wed, February 20 2019 15 Adar I 5779